Airbnb, the social travel company that allows anybody to travel the world while staying at someone else's place, is trying out new ways to focus on weekend trips and last-minute bookings to play a more relevant role in this profitable segment of the travel market.
No big announcement has been made yet (unlike what happened with the launch of Neighborhoods 2 years ago), but something interesting seems in the process to be launched soon: Weekend Getaways.
Escape for the Weekend
What seems to be the first real new feature after the highly publicized redesign and rebranding of last summer, is described as a "collection of weekend destinations near you" that allows anybody to find the best location for a short weekend trip.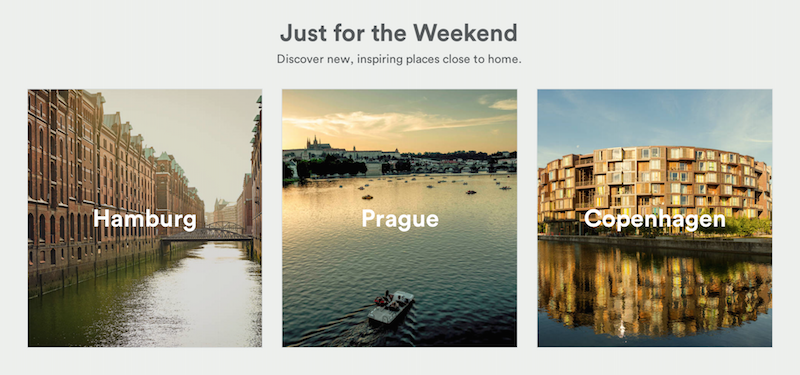 The Weekend Getaways entry section being tested on Airbnb homepage
The new product seems to be in a preliminary testing phase: indeed, the section that was linking to the Weekend Getaways pages is still visible on the Airbnb homepage, but now always redirects to the normal search results city pages. Furthermore, the new Getaways landing pages are not included in the sitemap and are not indexed on Google, have imperfect on-page SEO structure and metadata, are available only for some top level domains and don't offer social sharing functionalities.
After a lot of work done to educate hosts and improve the overall quality and perception of its services, Airbnb is now working on a feature - complementary to Neighborhoods, Wishlists and Local Experiences - designed to offer guests the most important information needed to plan a short weekend trip in a city not too far away.
In the new Getaways pages guests can find:
Emotional pictures of the city
A few lines to explain why to visit a specific city
Weather forecast for the upcoming weekend
Travel distance (by car or plane) from their current location
The journey on an interactive map
Friends that visited the city and stayed with Airbnb
A selection of 3 listings available during the weekend
A link to discover all the other available places in town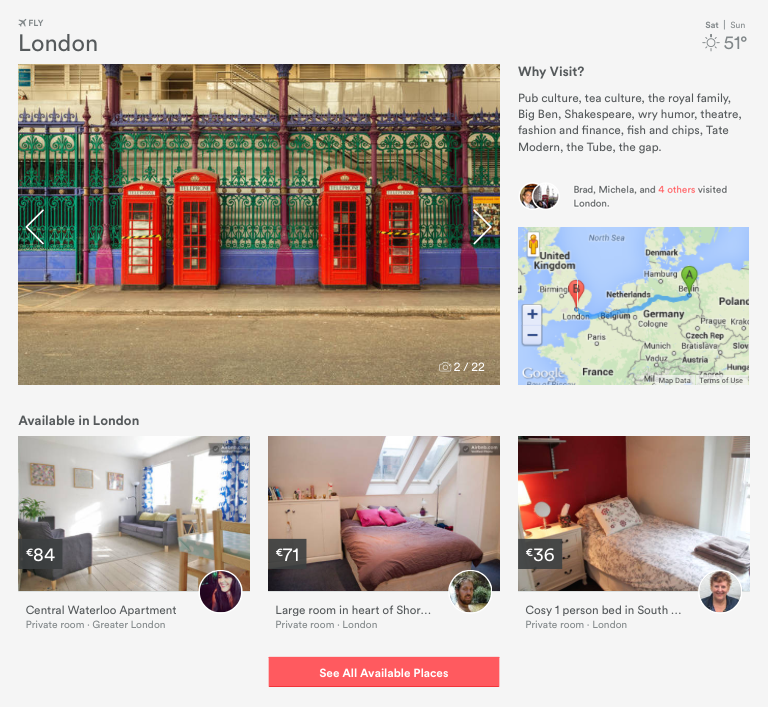 Plan a weekend getaway with Airbnb for the weekend
When the social travel company launched Neighborhoods in 2012, the intent was to help users to find and explore different areas within a city, discovering a "wide array of diverse communities, each with its local flavor".
While Neighborhoods were launched following the true "local spirit" that drove Airbnb initial growth, the Weekend Getaways pages show instead a different and more mature side of Airbnb: the company grew exponentially in the last years and its reach is no more limited to a few cities. Thus, seems like a natural move to transition from local discovery within a city to a more global approach, where users discover travel destinations starting from a specific city.
Already back in May 2014 Airbnb tried to approach more directly those looking for a last-minute accommodation by introducing (even if only in the mobile app and focusing on Los Angels and San Francisco) a "This Weekend" section. The feature, in the words of Joe Zadeh, Airbnb's Head of Product, had the goal to "inspire trips that wouldn't have otherwise taken place" and allow users to "book a place on demand".
Some of these features had been removed from the mobile app after the last redesign, shaping discovery more around Wishlists. However, introducing new ways to discover fascinating places would also mean more bookings per user... and since weekend trips are among the most common use cases for short term rental websites like Airbnb, it's quite natural that the thy is trying to push its users to discover more travel opportunities on its website to increase growth and revenues.
The old version of the Airbnb app, featuring a last minute and a "This Weekend" section
I would not expect these new pages to be meant as a direct destination for paid traffic, and - despite the creation of fresh new content - also an increase in organic traffic might not be the primary goal. Airbnb's intent here is likely to leverage its existing user base, increasing the personalization offered to its community with the goal to improve even more the level of engagement, interaction and returning customers. A good use case for these pages would be in connection with social media channels or CRM/newsletter activities, where the targeted users are already accustomed with the brand and are looking for a source of inspiration for their future trips.
Furthermore, it will be interesting to see how these pages will be included in the efforts Airbnb is making to make its website fully responsive. Even if the recent revamping of the desktop site featured a flat and responsive-ready design, mobile devices are still served a dedicated (and functionally-limited) version of the website.
Given the continuously growing share of mobile traffic (especially for last-minute decisions), when Airbnb will switch to a fully responsive design, I expect them to use the Weekend Getaways pages to offer more functionalities and improve the guests experience on mobile, without necessarily asking users to download the app.
The Weekend Getaways pages are available for the most important cities all over the world, including Bangkok, Barcelona, Beijing, Berlin, Boston, Buenos Aires, London, Los Angeles, Mexico City, Miami, New York, Paris, Rio de Janeiro, Rome, San Francisco, Seoul, Sydney, Tokyo, Venice and many more...
Airbnb is still focused of providing an emotional approach to travel, but as it adapts to consumer demand, will the features offered on the website get more similar to the hotel industry that they are trying to disrupt?
PS: If you want to visit Berlin, you should check out my listing... I might be biased, but it's one of the best places in town! And if you're not registered on Airbnb yet, you can get 25$ (23€) for free on your first booking if you sign up from here.