What do an IKEA store, a KLM airplane, Warren Buffett's home place, the Galleries Lafayettes in Paris, the Chenonceau Castle of Catherine de Medici, Gaudí's Casa Batllo, a Waterstone Library, the Sepang International Circuit, the Sydney Cricket Ground and Iniesta's vineyard have in common?
Simple: Airbnb's formidable marketing strategy.
As part of a wise PR and marketing campaign, over time Airbnb has been publishing on its site a few contests disguised as traditional listings, gathering the interest of its users, but also cleverly creating relevant content that almost any news site loved to write about.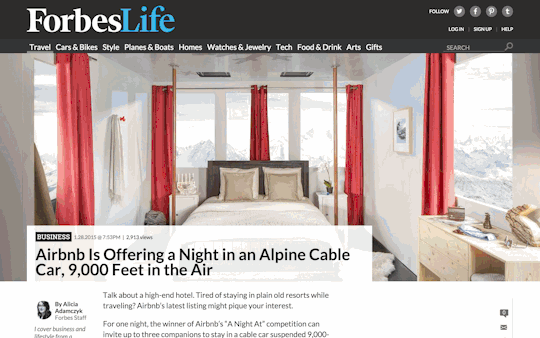 A selection of press articles featuring Airbnb "Night At" contests
Thanks to the continuous and exponential increase in the recognition of its brand, Airbnb had been able to come up with more and more creative ideas, partnering up with other big brands, celebrities and institutions, generating stories that were quickly picked up by the media.
At the beginning of 2015, two particularly well timed raffles (a sleepover in a sky jump in Oslo 🎿 and a night in a cable car in Courcheval 🚠) clearly showed how the interest around this kind of stories could be used to easily generate thousands of press articles and valuable backlinks at a cost close to zero.
Despite the powerfulness of these stories (a simple search on Google will show how they resulted in more than 100.000 SERP entries!), the way they've been promoted on Airbnb's site has always been quite "hacky".

The daily price was set to $0 and the calendar availability was null in order to prevent unwanted bookings. Instead of the description, you could find the rules of the contest, in which participants were usually asked to send a message to the "host", briefly highlighting the reasons why they should have been awarded with the stay, on the basis of which Airbnb would then decide the winners.

However, with the last of these stunts – organized in collaboration with the Chicago Bulls 🏀 – Airbnb started using a new page format to promote the contest.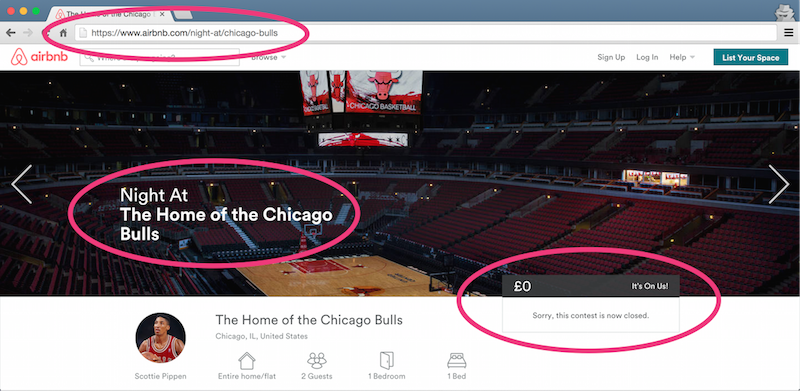 The page used to celebrate the legendary sleepover at the United Center was indeed very similar to a normal Airbnb listing, but had a few key differences.
the page has a different URL structure (www.airbnb.com/night-at/chicago-bulls)
the headline is clearly labelled "Night at [...]"
instead of the calendar, there is a clear call to action to enter the contest (or to show that the contest is over)
there's no "reviews" section
the footer is linked to a dedicated "Night At" page gathering the past contests

While Airbnb already grouped the "Night At" experiences in a YouTube playlist, the new landing page will now likely work as hub to collect all the contests, linking them together, increasing discoverability, interactions and consequently also their SEO ranking.
The page explains how Airbnb is transforming iconic spaces into homes just for one night, prompting users to sign up for the change to spend a night at one of these magical locations.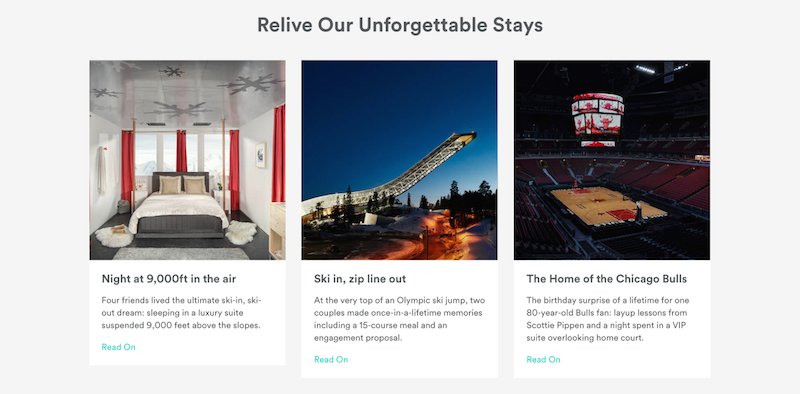 The page still partially looks under construction, but is already linking to 3 different blog posts (Night at Holmenkollen, Night at Courchevel, Night at Chicago Bulls), where the anecdote behind each contest is narrated.
Adding more details to each story (for example, explaining why a winner was chosen or narrating how they experienced their stay, like in the video below) will help to explore the more emotional and human side of the story, embracing the idea that Airbnb is nowadays more a community that brings people together, rather than a pure accommodation site.
And of course, creating more content will generate new pieces of news that will only help to bring more traffic and users to the site.
Given the success of past editions and the amount of coverage that Airbnb is able to receive, we expect to see more and more contests following the same format being promoted by Airbnb.
What dream place would you like to see next featured on Airbnb? Tell us in the comments!
---
Update 10th May 2015:
The old contest didn't use the new "Night at" page structure, but we expected them to be migrated soon to the new format redirecting from the old URLs.
Today we discovered that the new pages are already live, but not yet indexed or linked from anywhere:
Since www.airbnb.com/night-at/galeries-lafayette, www.airbnb.com/night-at/chenonceau-castle and www.airbnb.com/night-at/iniesta result in a 302 (temporary) redirect to the homepage and not in a 404 page, we think that also these pages will soon be available.
Update 13th May 2015:
As expected, Airbnb just rolled out a new "Night At Maracanã Stadium" contest: hosted by legendary football player Renato Gaucho, 2 lucky winners will be able to sleep at the most famous Brazilian stadium on May 30th. Visit this page to apply!